At least 15 armed Russian coast guards have taken over a protest ship in in the Arctic, Greenpeace said.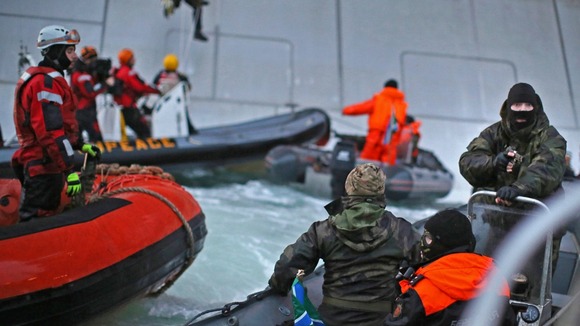 25 protesters, including six Britons, were arrested after guards used helicopters and robes to board the ship. The activists are still being held under armed guard, Greenpeace said.
The ship, the Arctic Sunrise, has been circling an oil platform run by energy giant Gazprom, which is setting ready to drill for oil in the Arctic. Greenpeace say they were inside international waters and outside the jurisdiction of Russian authorities, making the boarding of the ship unlawful.
The armed ship seizure comes a day after activists attempted to board the Gazprom rig. The Russian coast guard responded to the protest by firing live ammunition at protesters as they attempted to climb on to the platform, Greenpeace said.