Elusive graffiti artist Banksy has revealed his plans to escape his own commercial success with a month long "tag tour" of New York in a rare interview with New York's The Village Voice.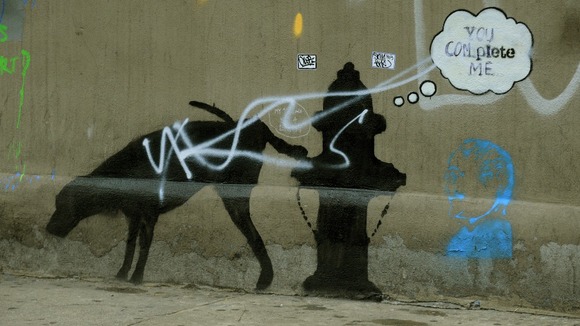 The artist said he visited New York a "couple of months ago" to scout locations for the show, which will see him produce some kind of work for every day of October.
He explained:
"There is absolutely no reason for doing this show at all. I know street art can feel increasingly like the marketing wing of an art career, so I wanted to make some art without the price tag attached. There's no gallery show or book or film. It's pointless. Which hopefully means something."
Each piece of art will be accompanied by a free number that dials an "audio guide" created by the artist to confirm the authenticity of the piece.
Banksy's work has been sold for hundreds of thousands of pounds, making him one of the most important artists working at the moment, however he says he views his financial success as problematic as society rewards "so many of the wrong people." He said:
"Commercial success is a mark of failure for a graffiti artist. We're not supposed to be embraced in that way. When you look at how society rewards so many of the wrong people, it's hard not to view financial reimbursement as a badge of self-serving mediocrity."