When the Queen's car arrived at St James's Palace, nearby doors opened and young George could be heard gurgling.
His grandfather Charles and stepmother Camilla walked forward to meet the Queen, who was already being greeted by the Archbishop and the Bishop of London Richard Chartres.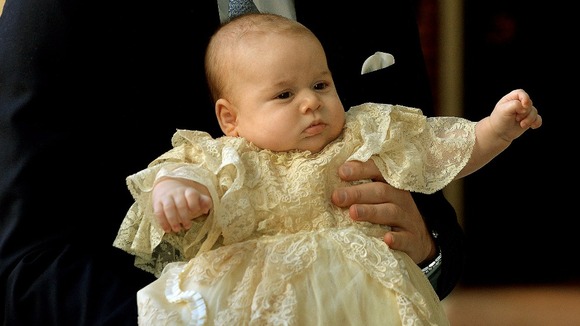 The doting grandfather was followed by William and Kate, with the duke holding his son in front of him and jiggling him up and down as he walked.
He was joined by his brother Harry, who greeted his grandfather the Duke of Edinburgh as William told everyone: "He's all ready", adding: "So far so good."
George, with rosy cheeks and darkish hair, stared curiously at his relatives as they chatted and was on his best behaviour.
He was wearing in a replica of the intricate lace and satin christening gown made for Queen Victoria's eldest daughter in 1841, which almost touched the ground.
The royal party chatted for a few more minutes and Kate walked over to greet Philip, kissing him on both cheeks before curtseying quickly.