A care worker described how his car was crushed in a split second by a falling tree just moments after parking.
Muhammad Sial - a devout Muslim who prays everyday - said his prayers must have been answered following his near-miss in Birmingham.
The 66-year-old said: "I didn't hear a noise, I just got to the front door and turned to look back and the tree had smashed my car.
"The trunk of the tree was lying right across my car - it had happened just in an instant.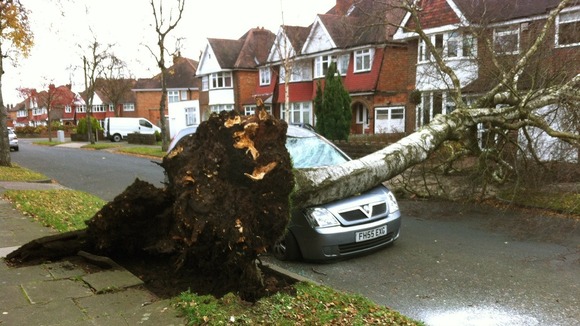 "I think my prayers and the prayers of my clients must have been answered."
Elsewhere, in Solihull, another driver had a lucky escape suffering only minor injuries as a tree fell on her car, smashing the driver's side windscreen.
In Birmingham's city centre, a pedestrian was taken to hospital with serious injuries after being hit by falling window glass according to West Midlands Fire and Rescue Service.
Two people were also hurt when the roof blew off one of the huts which make up the city's highly popular Christmas German market, forcing its closure on safety grounds.