French troops have arrived in the Central African Republic amid ongoing violence between Muslim and Christian communities.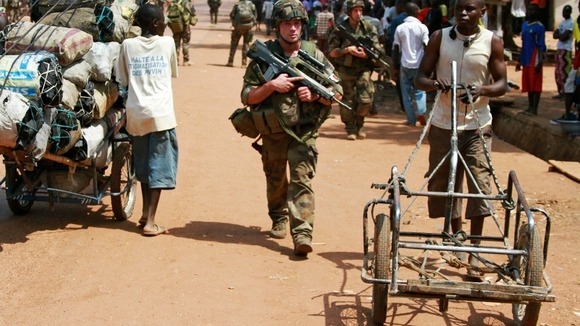 Why are the French sending troops?
CAR is a former French colony, which has seen decades of instability since its independence in 1960.
The country's location is a major concern. Neighbouring South Sudan and DR Congo are fragile and the international community is afraid the conflict could spread.
The UN Security Council authorized a French-backed peacekeeping force to quell this spiralling violence.
Who are the different sides and why are they fighting?
In March, opposition rebels ousted the country's president Francois Bozize.
The largely Muslim Seleka rebel group then suspended the constitution and installed its leader, Michel Djotodia, as the president.
Mr Djotodia has since lost the control over his fighters, who embarked on months of looting, rapes and killings of civilian communities, according to the United Nations Security Council.
The Christian majority have now formed militias and have been fighting back against the rebels, the UN say.
The conflict has since deteriorated into religious violence.
How many foreign soldiers are in the country?
France is deploying 1,600 troops to use force to help African peacekeepers struggling to restore order.
The African Union force is also due to be increased to 6,000 from 3,500.
Will the UK get involved in the conflict?
Not directly. The UK is in talks about providing "limited logistical support."
The Ministry of Defence said there was no prospect of combat troops being sent.
Read: UK in talks on CAR military support
Are civilians in danger?
The Red Cross reported that over 400 people have been killed over the weekend since Friday, many civilian. UN says nearly 400,000 people have been displaced, with 70,000 forced to flee the country.
2.3 million children are affected by the crisis, UNICEF says.