The family and friends of a "lovable giant" who died when a police helicopter crashed through the roof of a busy pub have gathered to remember him.
Mark O'Prey was on a night out to watch one of his favourite bands at Glasgow's Clutha bar when the helicopter fell out of the sky.
The 44-year-old was one of nine people who died in the disaster on November 29.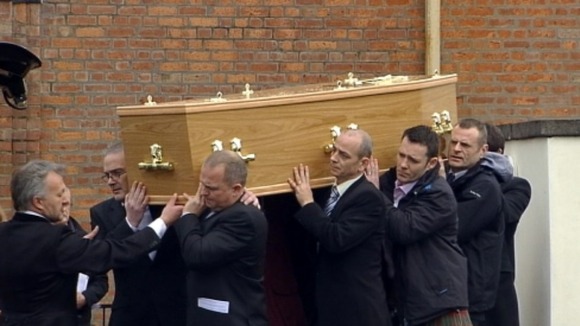 His funeral service was held in his home town of East Kilbride, South Lanarkshire, where hundreds of mourners packed into St Bride's RC Church to pay their respects.
Among them were pupils from the nearby St Andrew's and St Bride's school, which Mr O'Prey's son Liam, 15, attends.
Last week, the family of Mr O'Prey described him as a "lovable giant". They believe he died while trying to help others escape the pub.