The man accused of 'faking' sign language at the Nelson Mandela memorial service has told a South African newspaper he suffered a "schizophrenic episode".
Speaking to IOL, Thamsanqa Jantjie, who stood alongside world leaders and 'signed' at the national service earlier this week, said he doesn't know whether it was the magnitude of what he was doing or the happiness he felt throughout the day that might have triggered the attack while on stage.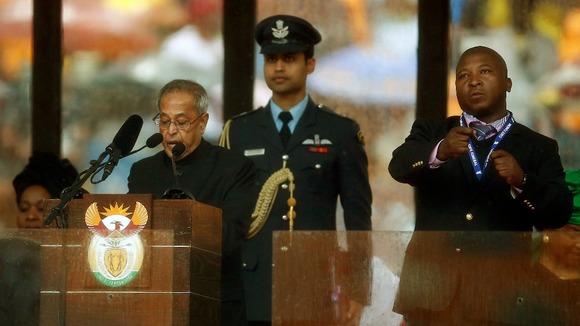 Suddenly he lost concentration, and started hearing voices and hallucinating.
He said: "There was nothing I could do. I was alone in a very dangerous situation. I tried to control myself and not show the world what was going on. I am very sorry, it's the situation I found myself in."
Jantjie said that although the episode impaired his ability to hear well and interpret what was being said, he couldn't leave, so he stayed on and continued to sign things that didn't make sense. He also told the newspaper he takes medication for his schizophrenia.
"Life is unfair. This illness is unfair. Anyone who doesn't understand this illness will think that I'm just making this up," he said.