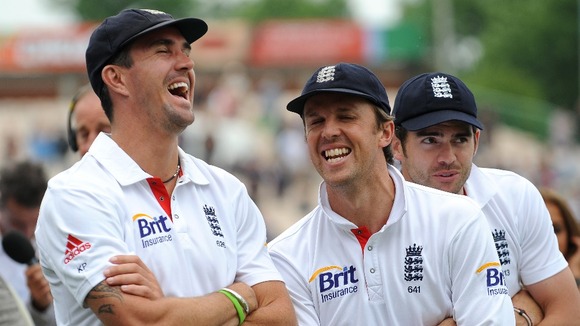 Retiring off-spinner Graeme Swann has stressed he was not talking about Kevin Pietersen - or any of his former England team-mates - when he described certain players as "up their own backsides".
Swann, who announced his retirement from all forms of cricket over the weekend with immediate effect, was careful to name no names when he used the description, but it was widely interpreted as being about players in the England team.
With media and former players pondering who he could have been referring to, the 34-year-old replied via Twitter to one of them - 2005 Ashes-winning captain Michael Vaughan - to correct the misconception, and on Christmas Eve further clarified his views in his column in The Sun.
Swann wrote: "I wasn't talking about Kevin Pietersen or any England player when I made comments during my retirement press conference.
"Myself and Kev have had a very good working relationship and his reintegration back into the team has been spot on.
"The truth is I was talking about other players around the world who don't carry themselves in a manner I think is befitting of wearing an international shirt.
"With hindsight, I should have clarified there and then that I wasn't talking about England players, rather than leaving it hanging in the air."