'Face-book' was originally an Edwardian parlour game, a newspaper report from 1902 has revealed.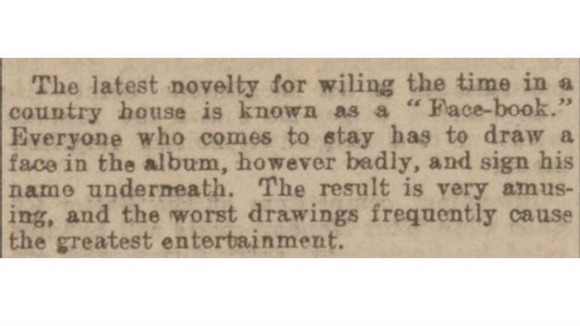 As the social networking giant celebrates its 10th birthday, a 1902 clipping from Exeter newspaper The Western Times shows that a paper prototype called Face-book was "the latest novelty for wiling the time in a country house."
Read: Facebook: Cash and controversy 10 years on
The lower-tech version involved guests at stately homes drawing a picture of a face in an album before signing it, with the newspaper adding: "The result is very amusing and the worst drawings frequently cause the greatest entertainment."
Read: Has Facebook made life better or worse? Your views
Amy Sell, a researcher from the British Newspaper Archive, said: "Forgotten stories like this really enrich what we know about the past. It's surprising just how closely the 'Face-book' of 1902 reflects what we use today - history certainly does seem to repeat itself."