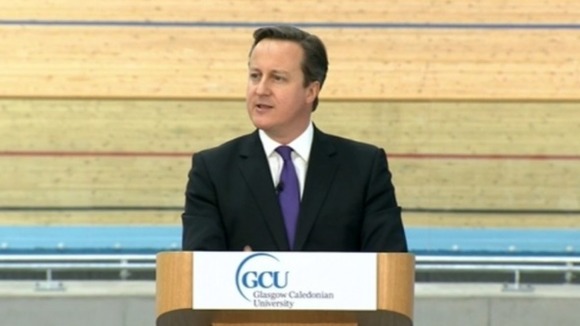 There were no real surprises in David Cameron's speech today, but there were a few hackles raised by where he chose to say it from.
But David Cameron is damned if he does, damned if he doesn't, in Scotland.
He has three options on this referendum debate:
He either says nothing, in which case he's accused of ignoring a huge issue.
He can come up to Scotland and tell people how to vote, in which case he is accused of interfering.
Or he does what he did today: makes a speech from London, in which case it is said to be cowardice.
I think he would have stayed out of it for a while longer, but he has noticed what a lot of people up here have been talking about for a while.
The last six successive opinion polls in Scotland have shown a definite swing towards support for the pro-independence Yes campaign.
The unionists are still in front, but the gap is narrowing.
This was a speech not just to the Scots, but to England, Wales and Northern Ireland, saying to people there: "You might not have a vote, but you've got a voice. Please use it to help keep this union together."