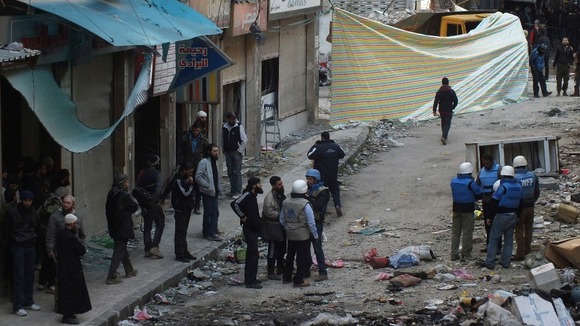 A UN envoy delivering aid and attempting to evacuate civilians from inside the besieged city of Homs managed to deliver some food parcels and medicine despite being shelled.
Read: UN aid convoy struck inside besieged Homs
The Red Crescent said they were forced to leave two trucks inside Homs and one driver was injured in the shelling. In a statement, it said:
"Although the team was shelled and fired upon we managed to deliver 250 food parcels (and) 190 hygiene kits and chronic disease medicines."
Syrian authorities blamed the attack on rebels, but opposition activists blamed Assad's forces, and accused the Syrian army of an earlier mortar attack which delayed the start of the operation yesterday morning.
The violence threatens to unravel a humanitarian deal for Homs which was the first concrete result of talks launched two weeks ago in Geneva to try to end the country's civil war. So far only 83 civilians have been rescued from the city.
Today is the last day of the three day ceasefire, which Russia said had been agreed to allow the aid to be brought in and civilians moved out.