The Polish foreign minister Radoslaw Sikorski was filmed by ITV News telling a Ukranian protest leader: "If you don't support this [deal] you'll have martial law, you'll have the army. You will all be dead.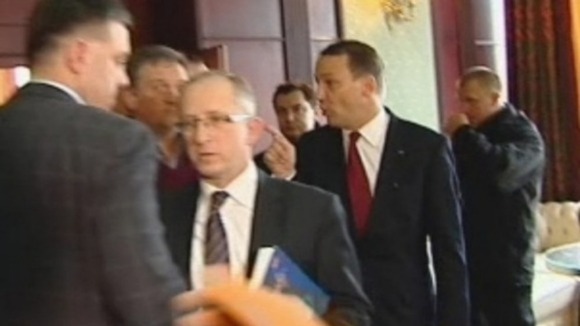 Following the encounter, the foreign minister spoke with ITV News' Europe Editor James Mates:
Q: You were overheard warning them of the possibility of martial law if they don't accept the deal. Is that a serious threat do you think?
Sikorski: It was a real possibility.
Q: That the army could have been sent in?
Sikorski: To my knowledge the interior troops were being readied.
Q: They've stepped back from the brink is what you're saying?
Sikorski: Well, as you can see it's almost miraculous. Within minutes of the agreement being signed the riot police are leaving.
Watch: Polish minister warns protest leader 'you'll all be dead'