President Viktor Yanukovich has fled Kiev and ministers of the old regime were dismissed.
Here are some of the key players of the crisis in Ukraine.
Oleksander Turchinov
Ukraine's new parliamentary speaker was granted presidential powers after the ouster of President Viktor Yanukovich.The acting president is an ally of former prime minister Yulia Tymoshenko.
Arseny Yatsenyuk
The pro-EU former minister represented the protesters during negotiations with Yanukovich.
The parliamentary leader of the opposition run unsuccessfully for president in 2010.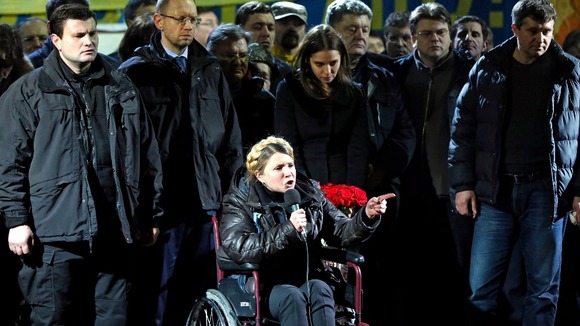 Vitali Klitschko
The former world heavyweight boxing champion is the leader of the pro-European Ukrainian Democratic Alliance for Reforms.
He said he plans to ran for president in 2015.
Yulia Tymoshenko
She led Ukraine during the 2004 "Orange Revolution." After a divisive term as prime minister she narrowly lost to him in an election in 2010.
Tymoshenko was released on Saturday after spending the last two and half years locked up in a hospital under prison guard.
She said she does not want to be considered for the post of prime minister.
Viktor Yanukovich
The ousted president is officially wanted by police after being declared "unable to carry out his constitutional obligations" by the Ukrainian parliament. His whereabouts are unknown.