David Cameron, anti-apartheid leader Desmond Tutu and Prince Harry have a led a memorial service for former South African president Nelson Mandela.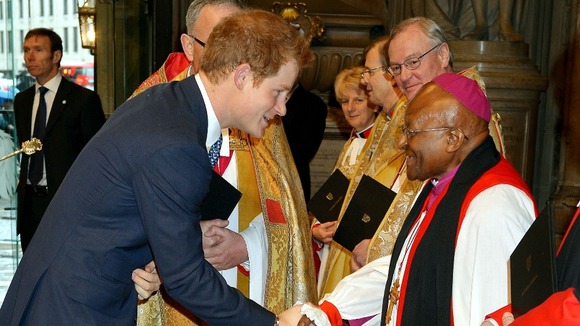 Read: Nelson Mandela leaves money to staff as will is made public
Harry, who was representing the Queen, was joined by senior politicians including the Prime Minister and Labour leader Ed Miliband at a Westminster Abbey service celebrating the life of Mandela, who died on December 5 aged 95-years-old.
Nearly 2,000 people attended the service which featured South African singing and drumming and an address to the congregation by the country's deputy president Kgalema Motlanthe.
The Most Rev Tutu, the former Archbishop of Cape Town, also made a speech and thanked the "splendid" and "amazing" anti-apartheid campaigners for their efforts in changing the "moral climate" over apartheid.
He said: "What would have happened had Mandela died in prison as was the intention and hope of the upholders of apartheid. I suppose most would have regarded him as no better than a terrorist - after all, persons in high positions in Britain and the US did dismiss him as such."
Read: Nelson Mandela buried as South Africa says final farewell