These documents are certainly tricky, they are not very helpful. It makes it look like Britain and her allies are not speaking with one voice when it comes to the threats of trade sanctions.
As much as I am surprised that these documents can still be photographed going in and out of that door -- and they are certainly not the first ones, it does prove that you get a different approach in the public and in the private.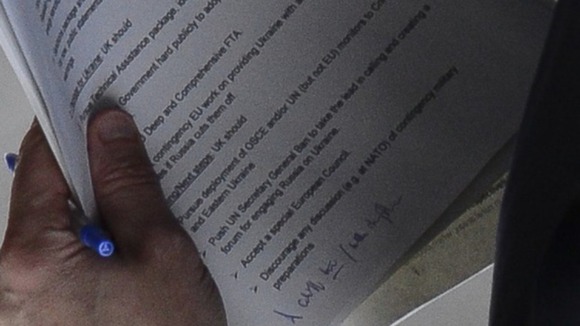 In fact, there is even a line in here, which says that they should stick to generic messages in the public realm and that sanctions should be reserved for private messaging to Mr Putin himself.
Tonight Mr Cameron spoke to both the leaders of France and Germany, they are all preparing for this emergency EU summit on Thursday. But the thing is, when you see things like this, you do have to wonder what sort of consequences 28 members of the EU could agree on.