A mediator from Europe's OSCE security body headed to eastern Ukraine seeking the surrender of pro-Russian separatists as the Kiev government declared an Easter truce following a peace accord with Moscow.
Gunmen occupying public buildings in Donetsk and other border towns refuse to recognise an accord in Geneva on Thursday by which Russia, Ukraine and Kiev's US and EU allies agreed that the OSCE should oversee the disarmament of militants.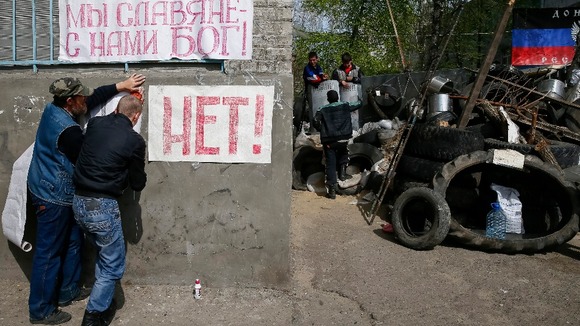 Ertogrul Apakan, who heads the special mission in Kiev of the Organisation for Security and Cooperation in Europe, said his deputy would be in Donetsk and meet separatist leaders by Sunday to see if they will comply with the agreement.
Swiss envoy Christian Schoenenberger said: "For the time being the political will is not there to move out [...] That's the task of the monitors, to create this political will, inform the people, so eventually they will understand that the best option for them is to move out."