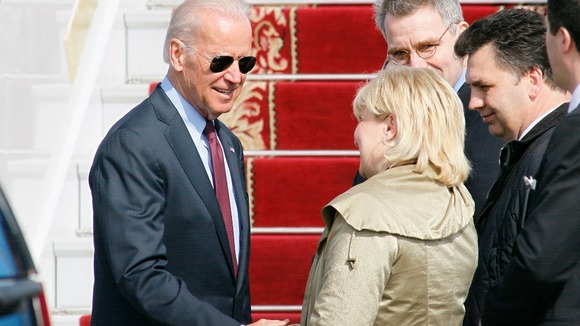 Russia has "days, not weeks" to abide by an international accord aimed at stemming the crisis in Ukraine, America's top diplomat in Kiev has warned.
Gregory Pyatt, the US ambassador to Ukraine, spoke as vice president Joe Biden launched a high-profile show of support for the pro-Western Ukrainian government.
Russia, in turn, accused Kiev of flagrantly violating the pact and declared their actions would not stand.
Mr Biden, the highest-ranking American to visit Ukraine during its conflict with Russia, will meet government officials in Kiev today and plans to announce new technical support to help the fledgling government with energy and economic reforms.
His trip comes days after the US, Russia, Ukraine and Europe signed an agreement in Geneva, Switzerland, calling for Moscow to use its influence to make pro-Russian forces leave the government buildings they now occupy in cites throughout eastern Ukraine.