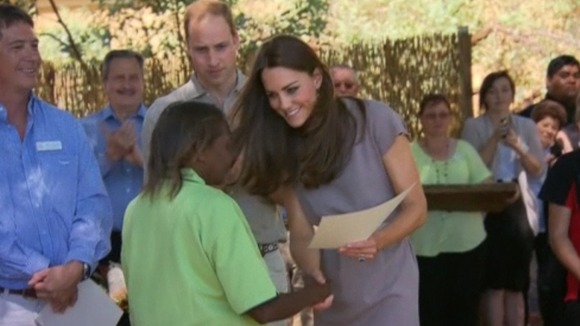 The Duke and Duchess of Cambridge have visited Australia's National Indigenous Training Academy as their tour of the country continues.
The visit to the school - which helps to train members of Australia's ethnic communities in the tourism and hospitality trades - will be followed by a traditional welcome at the Uluru Cultural Centre.
The royals - without Prince George, who is staying with his nanny in Canberra - will view an indigenous art display and later attend afternoon tea, given by the chief minister of the Northern Territory.
After tea, the Duke and Duchess will visit Uluru - also known as Ayers Rock - taking a short walk along its base in the company of a local guide.
Uluru is a world famous landmark - a huge mound of sandstone that stands almost 350 metres high and is more than two miles long and a mile wide.