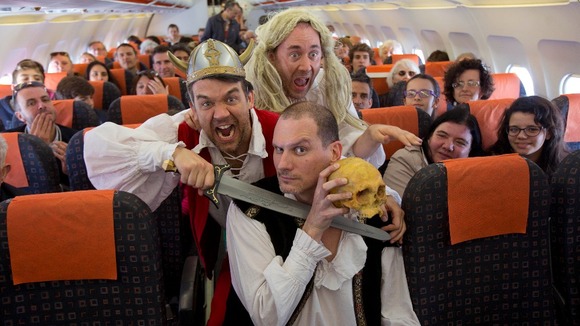 The Reduced Shakespeare Company is thought to have set a new world record after its actors performed an abridged version of the playwright's works at more than 37,000ft.
Actors Simon Cole, 38, Gary Fannin, 45, and William Meredith, 40, began with a 12-minute performance of Romeo and Juliet.
They then charged up and down the length of the plane for the next hour, performing Shakespeare's comedies and tragedies, including Titus Andronicus, Othello, Macbeth, Julius Caesar and Hamlet.
The Bard's plays were performed under the title Shakes on a Plane on a flight from Gatwick to Verona in celebration of the 450th anniversary of his birth.
The troupe is believed to have set a Guinness World Record for the highest theatrical performance, the attempt should be verified within a week.