Formula One chief executive Bernie Ecclestone has denied bribery allegations at the start of his trial in Germany today.
Making his way into the Munich courtroom, he told reporters "I'm confident, the sun is shining" and the 83-year-old even joked about his marital status in court.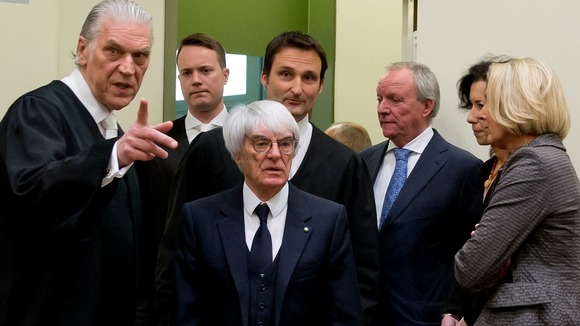 When asked if he was married or divorced, three-times married Ecclestone, replied "both," adding: "I like to remember the divorce part."
He is charged him with bribing now-jailed banker Gerhard Gribkowsky to smooth the sale of a stake in Formula One to private equity firm CVC eight years ago.
If convicted he could face up to 10 years in prison and the end of his decades-long dominance of the motor sport.
His lawyers said: "The alleged bribery never happened. The prosecution's claims are based on statements by Dr. Gribkowsky, which are wrong, misleading and not conclusive."