Donations for a cancer charity appeal organised by a terminally ill teenager are on the verge of hitting £3m and look like they will continue to rise.
Read: Comic's twitter push for teen cancer sufferer's campaign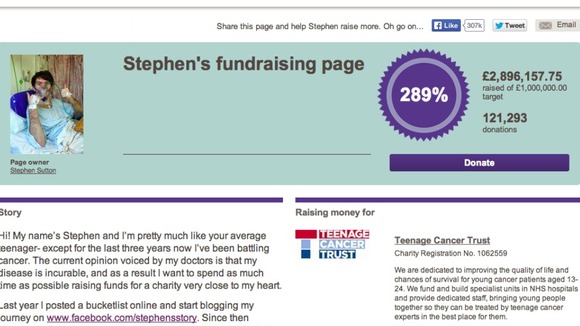 Stephen Sutton wanted to raise £10,000 for the Teenage Cancer Trust as part of his "bucket list" - a list of achievements he wanted to do before he died - but managed to raise £1m after going viral.
Thanks to support from celebrities like comedian Jason Manford and former Dr Who David Tennant, Stephen, who has inoperable bowel cancer, will soon hit the £3m mark.
19-year-old Stephen was diagnosed with bowel cancer aged 15 and remains seriously ill in a Birmingham hospital despite making a miraculous recovery from a collapsed lung.
The sum collected, generated mostly by 200,000 mainly small donations is three times bigger than any previous single legacy for the Teenage Cancer Trust.