The leaders of Northern Ireland's power-sharing government have been urged by the Prime Minister to co-operate after the arrest of Sinn Fein leader Gerry Adams prompted divisions between them.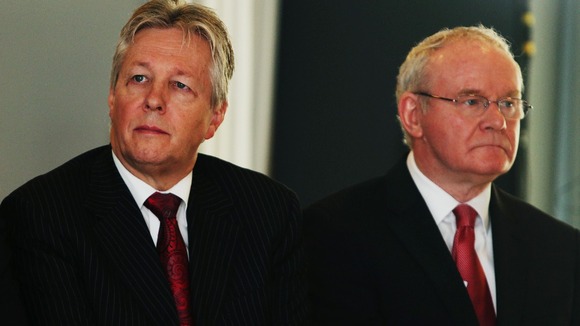 Peter Robinson and Martin McGuinness, who head the devolved administration at Stormont, spoke to David Cameron last night amid heightened republican anger at the time of Mr Adams' detention just before an election.
Northern Ireland Secretary Theresa Villiers said: "The Prime Minister does appreciate the sensitivity of a case of this nature.
"He, like me, is anxious to ensure that the devolved institutions continue to work well and that the Northern Ireland political leaders continue to work with each other on the big challenges that we face."
The Sinn Fein leader was held on Wednesday night as part of the police's investigation into the IRA abduction and murder of mother-of-10 Jean McConville in 1972.