Ukip leader Nigel Farage said David Cameron has "no intention" of allowing him to be part of any televised debates ahead of the next General Election.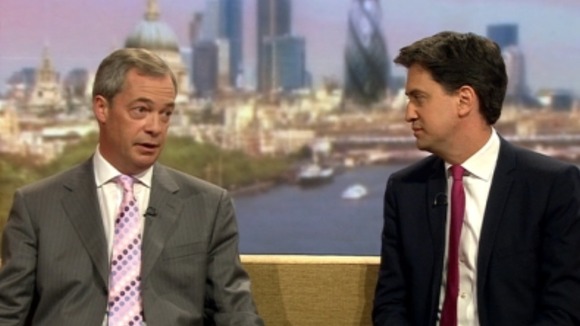 The Prime Minister "has not ruled out" a debate with Mr Farage in the run-up to next year's election, according to The Sunday Times (£).
However, the Ukip leader told The Andrew Marr show: "I think what David Cameron does very often, is make these promises - vague promises - and then doesn't deliver afterwards. I don't think he's [David Cameron] got any intention of allowing me into any of these debates."
Labour leader Ed Miliband said it was the broadcasters decision as to who was involved in the debates but added he did not want Mr Cameron "to wriggle out" of them.
He said: "We've got to have debates like we did during the last election, I think David Cameron is doing everything he can to wriggle out of them...it's up to the broadcasters who they invite, whether they invite Nigel [Farage] or not, my main desire is that the debates go ahead."