Northern Ireland's First Minister Peter Robinson has accused Sinn Fein of a "despicable, thuggish attempt to blackmail" the police over the arrest of Gerry Adams.
Deputy First Minister Martin McGuinness has warned his republican party will review their support for policing if Mr Adams is charged in relation to the 1972 murder of Jean McConville.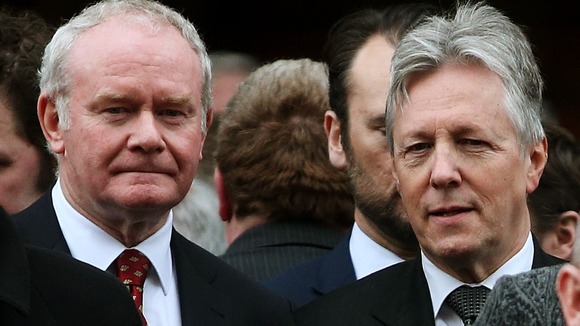 Mr Robinson said the stance amounted to an "obscene politicising of the policing process" and accused Sinn Fein of having "crossed the line".
Mr Robinson said: "The publicly conveyed threat to the PSNI (Police Service of Northern Ireland) delivered by the highest levels of Sinn Fein that they will reassess their attitude to policing if Gerry Adams is charged is a despicable, thuggish attempt to blackmail the PSNI.
"The threat now means that ordinary decent citizens will conclude that the PSNI and the PPS (Public Prosecution Service) have succumbed to a crude and overt political threat if Adams is not charged."