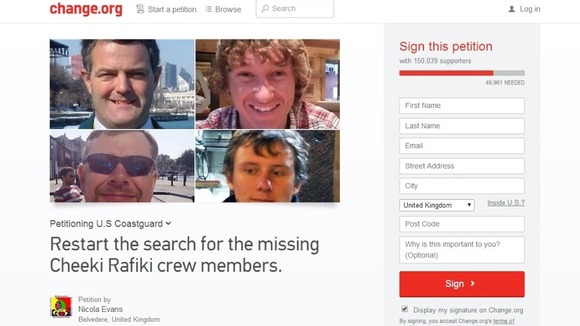 An online petition set up to urge U.S. authorities to resume the search for four missing British yachtsmen has reached 150,000 signatures after celebrities and politicians joined the campaign.
The Health Secretary Jeremy Hunt, the local MP for one of the missing men, had appealed to the US Coastguard not to give up and Sir Richard Branson has called on vessels near the area to keep a lookout.
The US Coastguard called off its search on Sunday morning for the crew of the Cheeki Rafiki yacht which was lost on Friday after it got into difficulties 620 miles (1,000km) east of Cape Cod in Massachusetts.
Veteran yachtsman Tony Bullimore told ITV News that there was a "strong possibility" the yachtsmen were still alive in the life raft.