Around 1,200 mourners attended the service or stood for the vigil in the first hour, according to Litchfield cathedral's authorities.
Among those attending and giving their thumbs-up were Celia Houghton and her 14-year-old daughter Freya, who had attended school with Stephen.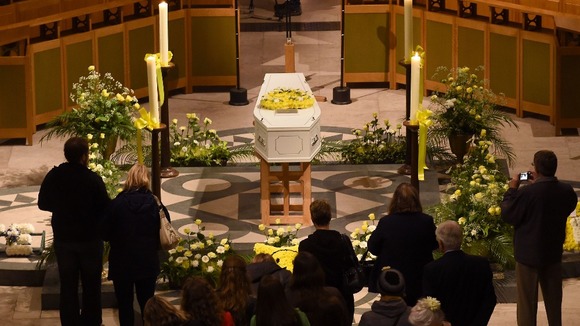 The teenager remembered a powerful speech the young man gave to the school's assembly a year ago, saying "he was one person who stood out".
Freya added: "The one thing that spoke to me was when he said 'don't measure time by the clock, measure it by what you do'.
"When he died, people cried at school.
"I remember walking along the corridor and people were using Post-It notes to stick goodbye messages on the wall."
Her mother said they had run to catch the horse-drawn hearse as it had left Stephen's home earlier, wanting to be there to mark the moment.
Read: Stephen Sutton charity fundraiser surpasses £4 million