Nick Clegg shows Miliband 'how to eat bacon sandwich'
Nick Clegg ate a bacon sandwich live on air, saying that it was "unfair" to criticise Labour leader Ed Miliband for being caught doing the same in an unflattering photograph last week.
At the end of LBC Radio's Call Clegg programme host Nick Nick Ferrari jokingly offered the deputy Prime Minister the sandwich, who took a bite.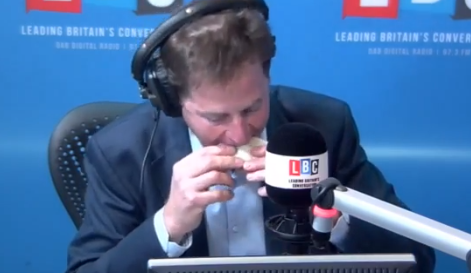 Clegg defended the Leader of the Opposition, saying " I don't think anyone looks very elegant [eating a bacon sandwich] .I thought it was a bit unfair on Ed [Miliband]."