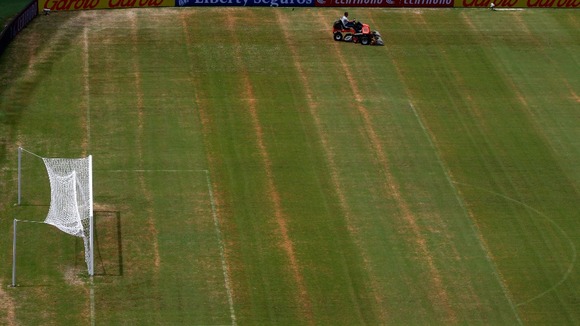 The pitch for England's World Cup clash with Italy on Saturday is "in bad shape", according to the head groundsman.
Carlos Botella, head groundsman for the Royal Verd company which is responsible for the turf at Manaus, says it has launched an emergency plan to improve the playing conditions in the Amazon.
Mr Bolatella told the Associated Press: "We've started to implement an emergency plan to try to save the field and improve it as much as possible, but I don't think it'll be in good condition by the weekend.
"Yesterday we put fertilizer, and we'll increase the fertilising process with biostimulants and seeds to try to get the most out of the grass."
England officials are set to inspect the pitch on Thursday ahead of Roy Hodgson's side playing their opening group game at the Arena Amazonia stadium.
More: Optimistic' 3% think England will win Brazil World Cup