Roy Hodgson and Steven Gerrard said thyey have no concerns about the Arena Amazonia pitch ahead of England's World Cup opener against Italy tonight after pictures emerged that appeared to show a man spray green paint over dry patches on the grass.
More: England v Italy: Manaus World Cup pitch 'painted green' amid fears over condition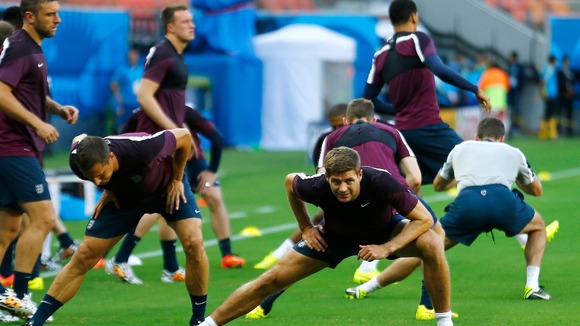 "I have just gone on the pitch with Steven and it was fine," Hodgson said. "It is very flat. I don't see reason to have any concern about it at all.
"We are quite happy to play on that pitch tomorrow night and I think it will suit both teams.
"The grass is very short, it is very flat and it will be possible to play good football on it."
More: A tough Amazon test awaits England in Manaus
Gerrard added: "I've just been on the pitch and it is totally fine. The grass is the perfect length and the sun is off the pitch at half-four and we don't kick-off until six o'clock.
"I am sure the water will stay on it and it will be quick and zippy. I think everyone is going to be in for a fantastic game."