As US Secretary of State John Kerry arrived in Baghdad this morning, the army commander responsible for the city's defence gave a press conference.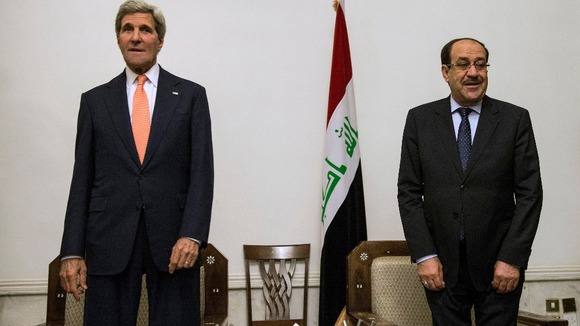 "There is no space for the enemy to be in Baghdad," said General Saad Maa'n Ibrahim.
"It is now our duty to hep our comrades in Babylon and Anbar - we have changed from defence to attack," he continued, before introducing some video footage of his troops' offensive operations.
Mr Kerry may be reassured that the city he's visiting is secure, but it's the rest of the country that he's worried about.
Most of Iraq's western border is now thought to be under jihadist control and that's a big problem for the region. He had a one hour 40 minute meeting with Iraq's prime minister, Nouri al-Maliki this morning, at the end of which Mr Kerry was heard saying "that was good".