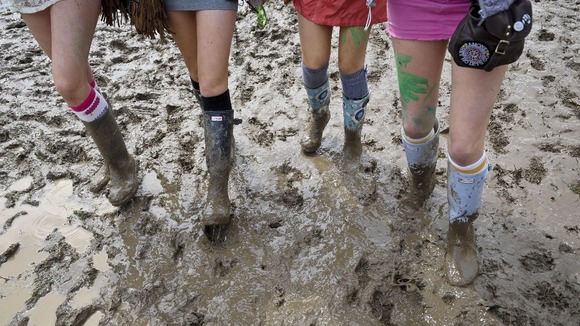 Glastonbury revellers are being warned to bring wellies with forecasters expecting dry weather today and tomorrow to be followed by heavy showers across the weekend.
The recent fine spell is set to break and the predicted rain could turn the festival into a mud bath as thousands of revellers tread the site.
John Griffiths, a forecaster with Meteogroup, said: "If it was just a few showers the hard ground would make it drain off. But after three days worth of rain it will probably get quite muddy, I suspect."
Mr Griffiths said today and tomorrow will be cloudy with sunny intervals and temperatures of around 20C (68F), while at night it will drop to around 10C or 11C (50F or 51.8F).
But showery rain on Friday is expected to preclude frequent outbursts of rain throughout Saturday and Sunday.