Luis Suarez will need time to learn to stop biting opponents, psychologists have warned, following the striker's latest misdemeanor.
Suarez, twice previously banned for biting, has been charged by Fifa after he appeared to bite the shoulder of Italy defender Giorgio Chiellini in Uruguay's 1-0 win yesterday.
"While common in early childhood, biting in adults is rare," senior psychologist Dr Eva Kimonis said.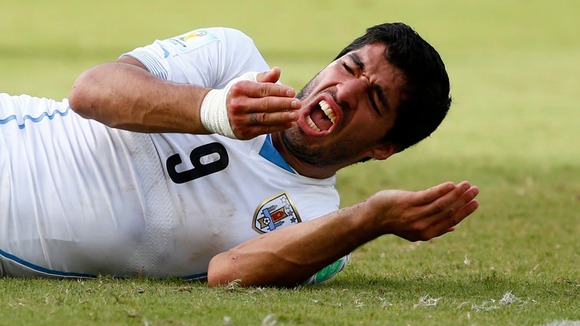 "It may be one manifestation of a broader, long-term pattern of misbehaviour that involves other forms of aggression - hitting, bullying, shouting, physical fighting - and is common to people with particularly hot tempers and impulsiveness."
"If there is an acceptance that this is a problem then individual work on identifying and modifying his stress signature would be helpful," Dr Corrine Reid, from Murdoch University in western Australia added.
"This is not quick. Changing habits of a lifetime takes commitment, effort and persistence over months but the impact can be powerful."