Diego Maradona has attacked Fifa's ban on Uruguay and Liverpool striker Luis Suarez as "criminal" and said world football's governing body might as well handcuff the striker and lock him up in Guantanamo prison.
Maradona, who made to comments during his soccer commentary programme broadcast on Venezuela's Telesur and Argentine public television on Thursday night, asked: "Who did Suarez kill?"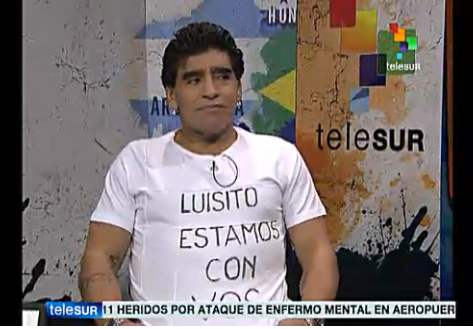 The Argentine footballing legend added: "This is football, this is contact.
"They may as well handcuff him and bring him to Guantanamo directly.
"If he made a mistake, fine, they should punish him, but they shouldn't exaggerate, they shouldn't be moralistic."
Maradona, who like Suarez rose to fame from a poor background, fervently defended Suarez throughout the programme and unveiled a T-shirt with the words "We're with you Luisito" scrawled on the front.