Serena Williams says she is "heartbroken" at having to withdraw from Wimbledon because of a viral illness.
The American was forced to forfeit her doubles match with sister Venus at the All-England club after becoming unwell on court.
The 32-year-old was knocked out of the singles in the third round last week.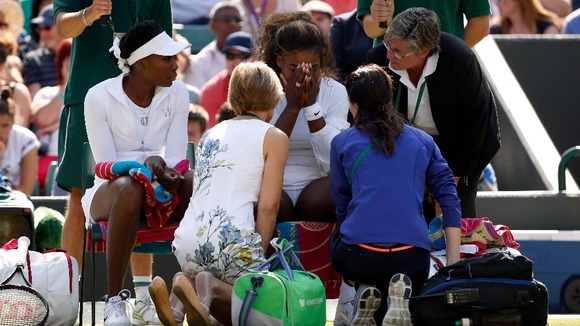 "I am heartbroken I'm not able to continue in the tournament. I thought I could rally this morning, because I really wanted to compete, but this bug just got the best of me. I want to thank my sister, Kristina, Stefanie and our teams for their support," the five-time champion said in a statement.
"We were all looking forward to a great match. From the bottom of my heart, I thank all of the fans for their cheers and understanding. I look forward to returning to Wimbledon next year."
Venus Williams added: "Unfortunately Serena has been feeling unwell for the past few days and she just couldn't play to her potential today. I'm really proud of her for trying because we just love playing doubles together. We are looking forward to coming back to Wimbledon next year."