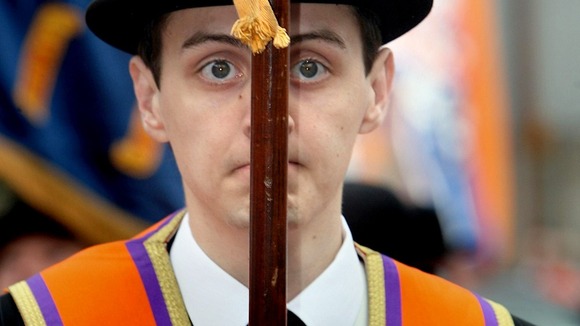 Police and Orangemen have expressed hopes violence will be averted in Northern Ireland today as protests are expected against a restriction on the "Glorious 12th" marches in Belfast.
The annual parade marks the Battle of the Boyne, the Protestant victory over Catholic troops in 1690.
But up to 50 protests are planned this evening in anger at the Parades Commission decision to prevent Orange lodge members walking along a section of the Crumlin Road next to the nationalist Ardoyne neighbourhood.
Grand Lodge of Ireland Grand Secretary Drew Nelson said every effort had been made to deliver a peaceful day.
"I would have a message for young protestants or any protestant or unionist who feels strongly about what's happening now - if you lift a stone or a bottle on the Twelfth day you are falling into a republican trap," he said.