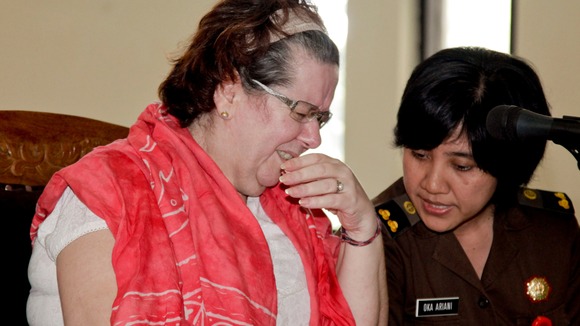 Grandmother Lindsay Sandiford, who is on death row in Indonesia for trafficking drugs to Bali, has lost her latest battle at the UK's highest court to get funding to fight her case.
Sandiford, 57, from Cheltenham, Gloucester, was sentenced to death by firing squad after being arrested in May 2012 for smuggling 4.8kg (10.6lb) of cocaine worth £1.6 million from Bangkok.
She claimed she was forced to transport the drugs to protect her children, whose safety was at stake.
An appeal against her sentence was rejected but she is continuing to fight her case.
However, she is currently without legal representation and tried to challenge the lawfulness of a Government policy not to provide funding for Britons facing capital charges abroad.
But today five judges in the Supreme Court unanimously dismissed her case ruling the policy was lawful even in death penalty cases.