Prime Minister Theresa May has said a "practical solution" will be found to the issue of the Irish border in the wake of Brexit.
Read the full story ›
PM Theresa May arrives at Stormont Castle for 1st meeting with Arlene Foster & Martin McGuinness. https://t.co/xxe6MRvwhH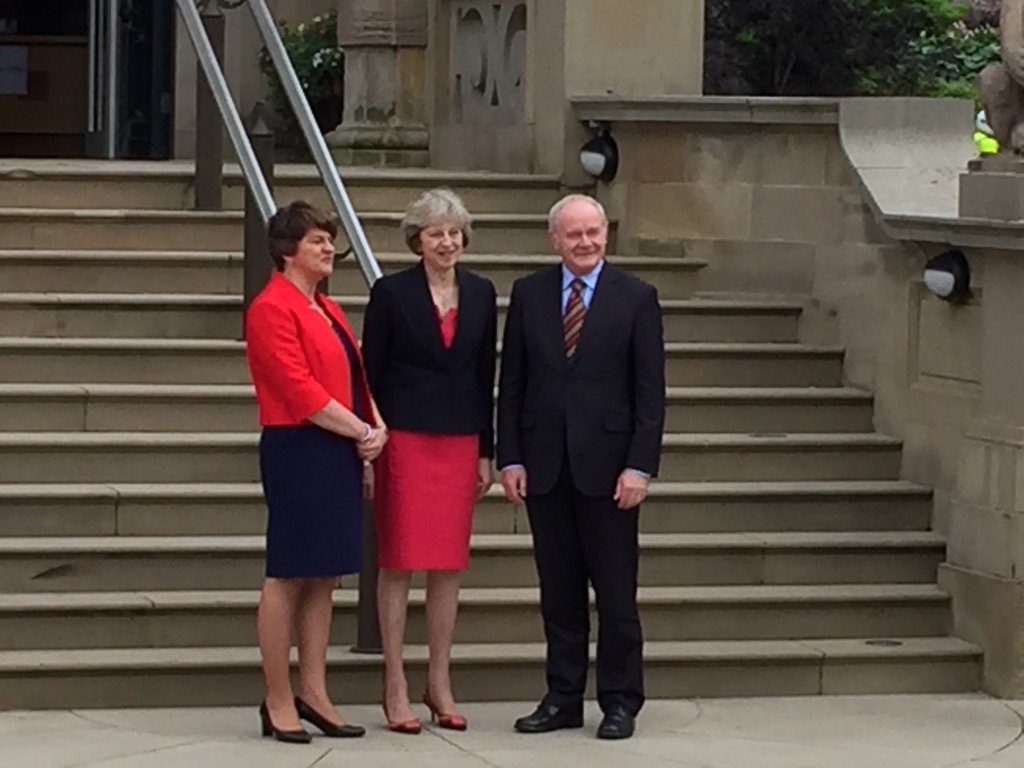 Prime Minister Theresa May has met the first and deputy first minister at Stormont at the start of her first visit to Northern Ireland.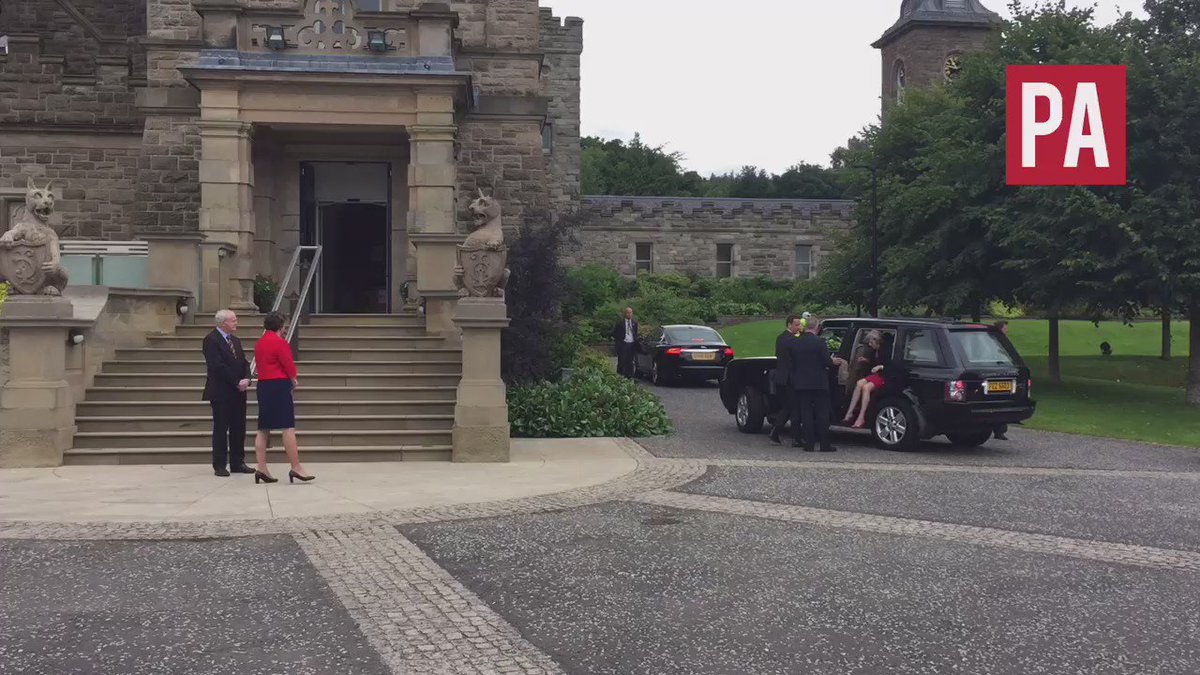 Advertisement
A group of politicians and human rights activists is to bring a legal challenge to the UK's withdrawal from the European Union (EU).
Read the full story ›
Prime Minister Theresa May is to visit Northern Ireland for the first time since in her premiership.
Read the full story ›
First Minister Arlene Foster has said she believes the common travel area between the UK and Ireland can continue to exist post-Brexit.
She was speaking at a press conference following the emergency meeting of the British Irish Council meeting in Cardiff to discuss the impact of the Brexit vote.
Earlier, deputy First Minister Martin McGuinness said he could not see how a common travel area on the island of Ireland could survive, considering that immigration had been a big issue in those supporting Britain leaving the EU.
However, Ms Foster was more positive about the border situation.
The hard border that we had in the 70s and 80s was there for a completely different reason than for customs and excise, it was because we were dealing with a terrorist threat at that particular point in time. I think it is eminently possible and probable and something that we will very much seek to do to ensure that the common travel area exists in a very real and meaningful way.
– First Minister Arlene Foster
Taoiseach Enda Kenny, who was also in attendance, stressed the importance that there was no hard border between the Republic of Ireland and UK.
"It would not be acceptable either south or north that there would be a European Union border running from Dundalk to Derry, it would not be acceptable," he commented.
"We're not going back to the days of checkpoints, towers and customs and all of that. That would be very retrograde step."
NI Secretary of State James Brokenshire reiterated that he was committed to making sure any border arrangements were as 'soft' as possible.
Martin McGuinness says he cannot see how the common travel area on the island of Ireland can survive in the forthcoming Brexit negotiations.
Read the full story ›
Advertisement
A key meeting of the British and Irish Council over Brexit is set to take place in Wales.
Northern Ireland's First Minister Arlene Foster and deputy First Minister Martin McGuinness will travel to Cardiff to take part in Friday's talks with leaders from across the administrations.
The outcome of the historic referendum on the United Kingdom's membership of the European Union is expected to dominate the discussions.
First Minister of Wales Carwyn Jones, who called the meeting, said it will provide an opportunity for national leaders to get together and look at the way forward.
He added: "The council plays a unique and important role in developing positive relationships between its members.
"During this tumultuous time, it is more important than ever to maintain the strength of this relationship and work together to map out a successful way forward."
French President Francois Hollande has warned that Brexit negotiations "should not drag on" during his Irish trip.
He issued the warning after talks in Dublin with Taoiseach Enda Kenny and only hours before he meets new British Prime Minister Theresa May in Paris.
Should the negotiations be shorter? The most important thing is that they should not drag on. The sooner the negotiations are open the better, and the shorter the better.
– French President Francois Hollande
His comments came after German Chancellor Angela Merkel said Britain should "take a moment" to prepare for withdrawal from the European Union and Mrs May indicated that she was unlikely to start the two-year process before the end of 2016.
"It's a decision that was taken by the British people," Mr Hollande said.
"Firstly it was the British who will have to bear the consequences. Europe will try its best to give its best relationship with the UK.
"But there's a time the politicians have to accept this vote. They have to accept the consequences."
Mr Hollande's trip to Dublin was arranged before last Friday's Bastille Day atrocity in Nice.
The trip has been scaled back in the wake of the terror attack, but Mr Hollande retained a commitment to meet President Michael D Higgins.
He will be back in Paris for talks with Mrs May on Thursday evening.
Mr Hollande said he understood the concerns about ensuring the Irish peace process is not damaged by Brexit.
"I do recognise there is a special situation here for Ireland," he said.
"It's a special situation and it has to be found a special place in the negotiations."
Mr Kenny reiterated his call for a soft border with Northern Ireland to remain.
Defence, deepened security and counter-terrorism measures across Europe were also discussed during his visit to Ireland.
Meetings have taken place in Dublin between the Irish Government and French President Francois Hollande.
Taoiseach Enda Kenny made his case in terms of what the UK referendum result on Brexit means for the Republic of Ireland.
They also discussed measures to tackle terrorism.
Mr Hollande is due to meet with President Michael D Higgins later, during his one day visit.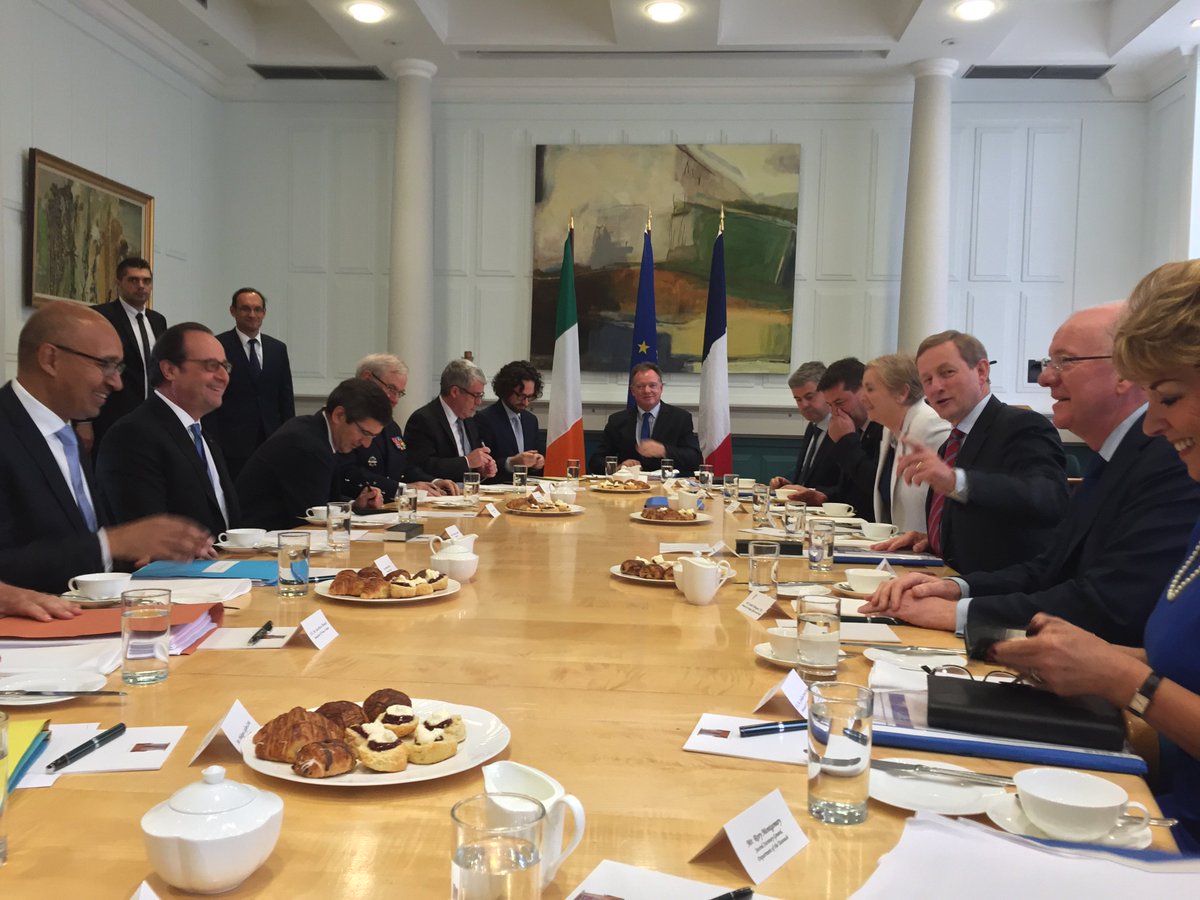 French President Francois Hollande is due in Dublin for talks with Taoiseach Enda Kenny.
The visit, which comes less than a week after the deadly attack on Nice, had been arranged before the atrocity happened and has since been scaled back.
Eighty-four people died and many more were injured after a truck was driven through crowds celebrating Bastille Day on the Promenade des Anglais
It is expected that Hollande and Kenny will discuss counter-terrorism measures and the fallout from the Brexit referendum at Government Buildings on Thursday.
The French President has also retained a commitment to meet Irish president Michael D Higgins and will be back in Paris for talks with Prime Minister Theresa May later.
The discussions in Dublin will be attended by Foreign Affairs Minister Charlie Flanagan and by Dara Murphy, junior minister for European Affairs.
Load more updates