Ryanair customers have been warned they may face disruption to pre-Christmas flights as around a quarter of its Dublin-based pilots go on strike.
The one-day industrial action will take place on Wednesday 20 December and mostly involves captains.
Trade union Impact said the dispute was about winning independent representation for pilots in the company.
The union warned the strike would either disrupt flights or generate substantial costs for the airline.
Pilots from the Irish Airline Pilots' Association backed the industrial action overwhelmingly during secret ballots.
Although the action involves around 80 of the 300 plus Dublin-based Ryanair pilots, Impact says it will cause disruption because planes cannot legally or safely fly without a captain.
The company said it was surprised by the decision of less than 28% of Dublin based pilots to strike, when Ryanair's Belfast, Cork and Shannon bases had already agreed these 20% pay deals.
In a statement, Ryanair said its pilots are free to join a union, the company is also free, under both Irish and EU law, to decline to engage with (competitor pilot) unions.
Impact official Ashley Connolly said Ryanair was the only Irish-based airline that refuses to recognise independent pilot representatives.
"Management's failed negotiating model has let down shareholders and tens of thousands of passengers, whose flights were cancelled this year because company-controlled industrial relations proved incapable of recruiting and retaining enough pilots.
"This dispute is about securing a safe space for negotiations, with independent representation that pilots can have confidence in."
Ryanair said they will deal with any disruptions "if, or when they arise", and have apologised to customers in advance of any delays.
Low-cost carrier easyjet has announced three new flight routes will begin operating from Northern Ireland next summer.
New services to the Isle of Man, Naples and Valencia from Belfast International will run from summer 2018.
This brings the total number of easyJet routes operating out of Belfast to 31.
The new flights to Italy and Spain will run twice weekly throughout the summer and the Isle of Man route will continue throughout the year.
Ali Gayward, easyJet's UK country manager, said, "we have been committed to Belfast airport for over 18 years. We are proud to have carried over 50 million passengers in that time."
Graham Keddie, managing director at Belfast International Airport, said, "The addition of twice weekly year-round jet services on key days to the Isle of Man will offer genuine opportunity to grow the market between Northern Ireland and Isle of Man".
"Naples and Valencia are likewise two welcome easyJet additions to the departure boards at Belfast International offering high consumer demand."
Advertisement
Drivers are being urged to take care on the roads following further snowfall across Northern Ireland.
Read the full story ›
There's a real festive buzz in Belfast on Saturday as the Christmas market has opened at City Hall and preparations are underway for the Christmas lights switch-on.
Lord Mayor Nuala McAllister will be joined by special guests including children's characters and Cavehill Primary School choir for an evening of fun before the big switch-on.
All tickets have been allocated for the event and traffic diversions will be in place in and around the City Hall. Pedestrians will have access until 5.30pm when it becomes a ticket holder zone.
One passenger has been taken to hospital with a sprain injury after a Flybe plane made an emergency landing at Belfast International Airport.
A spokesperson for the airline confirmed the aircraft landed with its nose gear raised, meaning its front wheel did not work for landing.
The aircraft had left Belfast City Airport on Friday morning and was destined for Inverness on when it developed technical problems.
After circling above the Irish sea for almost two hours dumping fuel, the plane eventually diverted to the airport at Aldergrove.
It had 53 passengers on board, including one infant, as well as four crew members. One person was taken for treatment to a minor hand injury.
The spokesperson added, "We are sending a specialist team to Belfast to offer assistance and we will now do all we can to understand the cause of this incident."
A statement from Flybe CEO Christine Ourmières-Widener said that the crew had taken "the necessary precautionary actions to ensure the aircraft landed as safely as was possible" adding, "safety is our highest priority and our crew are highly trained and undergo regular training to calmly and professionally handle any such situations.
"We sincerely apologise to the passengers for the disruption to their journey and any distress caused and our Customer Care team will remain in close contact with them over the next few days."
The airline organised a replacement flight for later in the evening.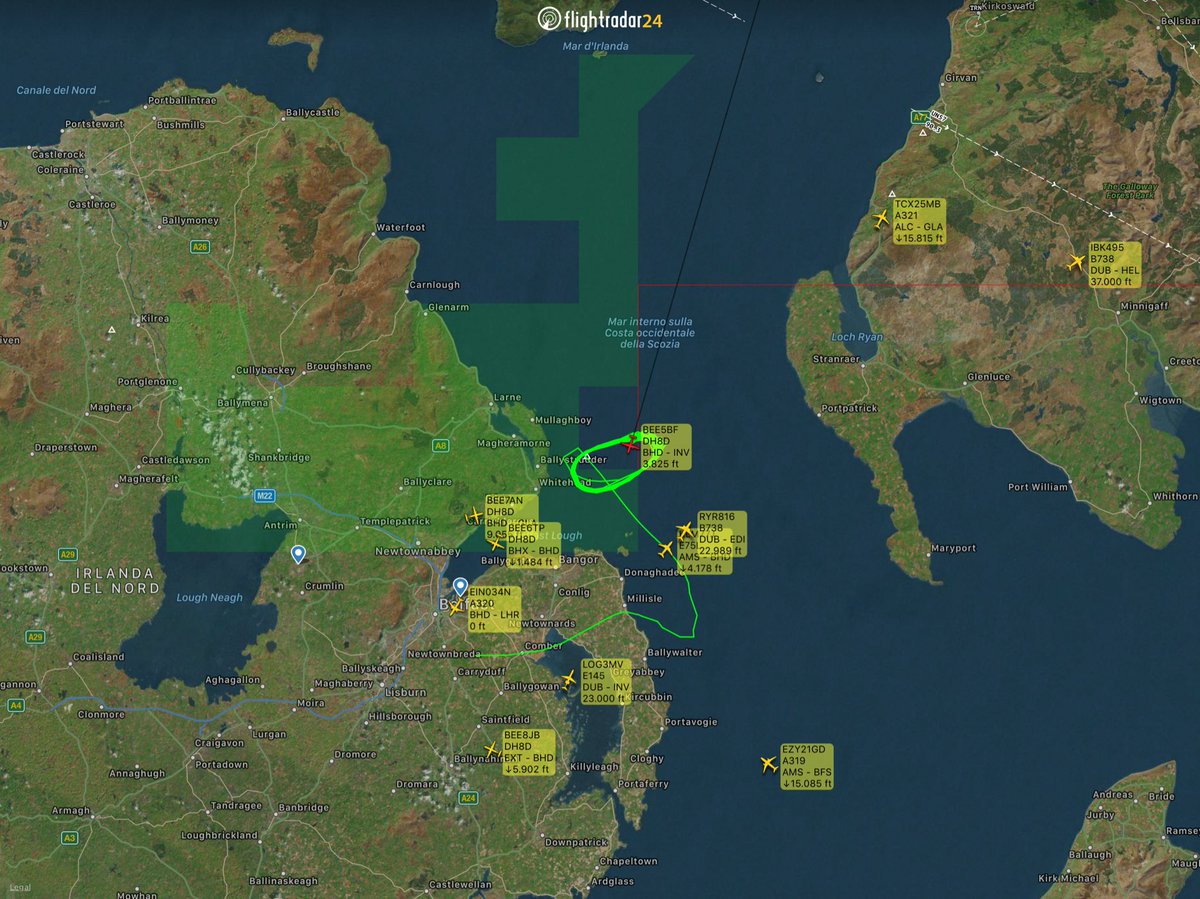 A Flybe flight to Inverness has made an emergency landing at Belfast International Airport due to technical problems.
The Flybe flight 331 from Belfast City took off at around 11.20am, it is understood and was circling off the coast before it was diverted to Belfast International Airport where it landed safely.
It's believed the plane has an issue with its nose gear, according to reports.
We are aware of an incident involving one of our aircraft. We are getting more information and will provide further… https://t.co/v3CJd2GZpm
Advertisement
Passengers travelling to the US from Belfast and other UK cities will face enhanced security measures from Thursday.
Read the full story ›
Crews are working to clear fallen trees and damaged electricity poles left in the wake of Storm Ophelia.
Read the full story ›
All schools across Northern Ireland and the Republic are to close on Monday due to adverse weather conditions expected when ex-Ophelia hits.
Read the full story ›
The operations chief of embattled airline Ryanair has resigned amid its flight cancellation crisis.
Read the full story ›
Load more updates