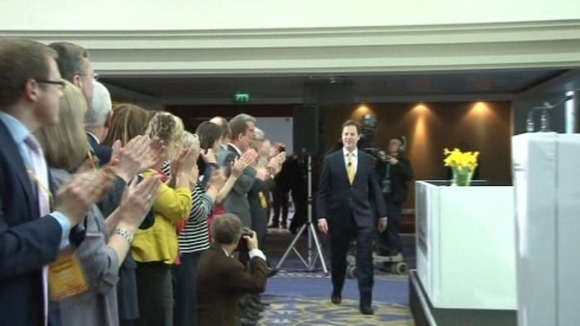 It's the final day of the Welsh Liberal Democrats' annual conference in Cardiff this weekend as polls suggest they could be in for a tough time at the local elections in May.
North Wales AM Aled Roberts today told ITV Wales the coalition deal in Westminster did affect elections locally, but the party is confident that people are beginning to understand the reasons behind it.
I think people are starting to understand the fact that there was an economic mess, that there were difficult decisions that had to be made, and that the real need was for a secure Government in Westminster for the five-year term.
– Aled Roberts AM

Our Political Editor Adrian Masters was at the conference yesterday and sent us this report.
This coalition government is standing up for the culture of work. There is such a proud part of Wales' history by making sure that work always pays.
– Nick Clegg, Liberal Democrat leader