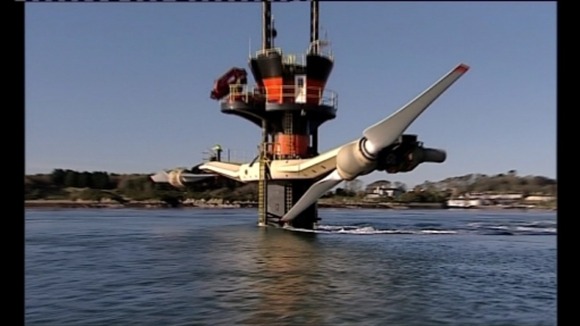 The Welsh Government has announced its priorities for the future of energy production here, focusing on the need to create jobs and unlock the potential of tidal energy.
Energy is a defining issue for our generation and an issue on which, as a government, I am determined that Wales will lead. Our ambition is to create a low carbon economy that delivers a wealthy future for Wales. At every step along the way, we must make sure Wales takes full advantage of the potential for jobs and long-term economic development, an aim which is especially important in the current economic climate.
– The First Minister, Carwyn Jones

Friends of the Earth Cymru claim the Welsh Government is ill-equipped to deliver its vision of a low carbon economy bringing a wealthy future for Wales.
If this is the Welsh Government's vision of a low carbon transition, it's a transition that's going to take a very, very long time indeed...Wales desperately needs the powers over planning and consenting for major energy infrastructure to free ourselves from the Whitehall mandarins who have no interest in Wales taking the lead in renewable jobs. "Devolution of powers over energy is working for Scotland, and if we're not going to be left behind, we must see it coming to Wales.
– Gareth Clubb, Director of Friends of the Earth Cymru

The renewable sector supported around 13,000 jobs in Wales and the low carbon sector around 16,000 jobs in 2009/10.

Plans to increase Wales' energy production from these sources have proven controversial, though. Opposition to proposals for large-scale windfarm developments across Mid Wales has been widespread, with campaigners celebrating Powys County Council's rejection of two planning applications on Tuesday. The 'Wylfa B' nuclear development on Anglesey, which has been specified as an 'energy island', has also aroused fervent protest.

The commitments outlined in the report, 'Energy Wales: A Low Carbon Transition', include:
Providing support to Welsh businesses to enable them to compete for energy contracts to maximise the number of jobs and economic benefits
Developing the Welsh workforce to meet the industry's needs through access to high quality apprenticeships, and through science, technology, engineering and mathematics in schools
Using the expertise here to position Wales at the forefront of innovation, research and development in unlocking the energy from our seas