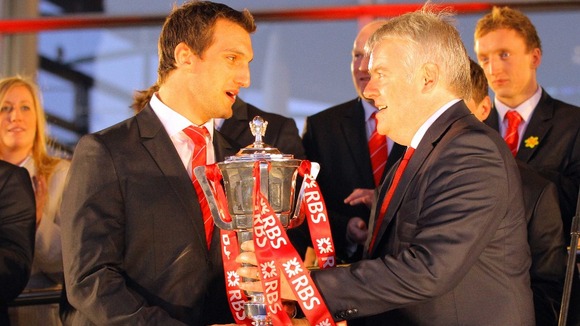 First Minister Carwyn Jones has welcomed Wales' victorious Grand Slam squad to the Senedd to formally present the Six Nations trophy to the team.
Thousands of fans turned out to celebrate the team's 16-9 win over France on Saturday that sealed the title and the Grand Slam. On the steps of the Senedd in Cardiff Bay, the First Minister presented the trophy once again to Coach Warren Gatland and Captain Sam Warburton.
The public celebrations were followed by a reception hosted by the First Minister and the Presiding Officer of the Assembly, Rosemary Butler.
This day is about two glorious words – Grand Slam. The players who stand before us are heroes who have made Wales proud. On the pitch they have displayed a strength, depth and skill that places them on par with the great Welsh players of the past.

For a team so young they have showed a maturity beyond their years and a determination to win that has moved the Welsh game to another level. It is a great honour to present this trophy to Warren Gatland and the team and congratulate them on what they have achieved for our country."
– First Minister Carwyn Jones

David Wood looks back at the evening's celebrations.