Budget 2012
Budget 2012: The verdict from Welsh political leaders
by Adrian Masters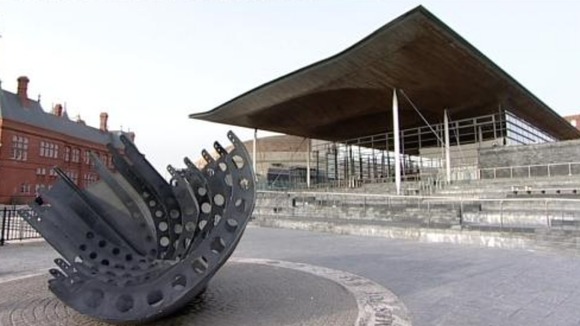 Here in Wales, the Chancellor's budget was seen as either 'a budget of disappointment' or 'fair and supportive to Wales' depending on which Government you were speaking to.
The latter view belongs to Welsh Secretary Cheryl Gillan who said,
Today's Budget will have a fair and positive impact on Wales, targeting those in need while maintaining the Coalition's commitment to creating a fairer tax system to support growth.
She said the fact that a further 42,000 people here won't pay any tax, a commitment to consider electrifying the Valley lines rail networks and an extra £11.7m for the Welsh Government was evidence to back her claims.
But the Welsh Government even questions that last figure. A spokesman says that it has no say over how £4.2m of it is spent, leaving a total of £7.4m to be spent on capital projects over the next three years.
Nowhere near enough, according to Finance Minister Jane Hutt, who had urged the Chancellor to bring forward capital spending so that Cardiff Bay could give the go-ahead to 'shovel-ready' projects in turn boosting creating jobs and boosting the economy.
Ms Hutt said,
This is a disappointing Budget and not one which will support economic growth in Wales or the UK as a whole. What we wanted to see today was a Budget for jobs and growth, with significantly increased or at least, brought forward, capital expenditure. The Chancellor did neither.
In the Assembly the Welsh Conservative leader Andrew RT Davies praised 'a budget that rewards work, backs business and will support the economy, while benefiting tens of thousands of families' and called for that disputed extra money to be spent on helping families by, for instance, freezing council tax. And he added,
The Welsh Government's refusal to accept the huge advantages within it smacks either of politically motivated rhetoric or a complete lack of understanding.
Leader of the Welsh Liberal Democrats, Kirsty Williams seized on the raising of the tax threshold as proof of her party's influence on the UK Government:
This is a budget for the many, not the few and I am extremely pleased that the Liberal Democrats have delivered on our promise to help workers on low and middle incomes in Wales and the UK. We will now see wealthier people in our society paying more taxes. It is only fair that those with the wider shoulders should carry the burden and that's what we've seen in this budget.
What you didn't hear from either the Lib Dems or Conservatives in Wales was any comment on moves towards regional pay levels, although both have concerns about it. Labour and Plaid had no such qualms about attacking the Chancellor on this though. A Welsh Government spokesman claimed credit for what they detected as a slowing down of the plans, saying:
The First Minister's public and relentless opposition to regional pay has been crucial in putting a brake on the UK Government's intention to steam ahead with this. The job's not finished however. Now we want to see this off completely.
But Plaid's Treasury Spokesman Jonathan Edwards MP reckons it's a threat which is far from over:
What has happened today is that George Osborne has passed the buck on regional pay to the Cabinet Office, but will be allowing it to go through.

The decisions will instead be made on a department by department basis and introduced through the back-door to damp down on criticism.