Budget 2012
Summer fuel duty increase remains in Budget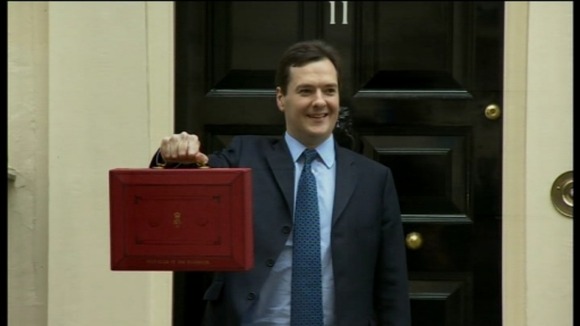 The Chancellor has ignored calls to cancel the increase in the rate of tax on petrol planned for this summer. From August the price of petrol is due to go up by 3p with an increase in the fuel duty levied at the pumps. The cost of filling the tank with petrol is already at record levels with petrol prices hitting an average of 135p a litre in Wales.
Businesses have been calling on the Chancellor to cancel the changes planned for the summer. Dave Hughes, of LE Jones's haulier company in Ruthin, says the increase will be a blow for businesses like his, which have seen the cost of fuel rise from 30 to 50% of their outlays in the past 10 years.
I'm devastated really. We were hoping for some help but we just haven't had it. I now fear for the future of the industry.
– DAVE HUGHES, HAULIER

Einir Williams and her family live on a farm in Gwytherin - one of the most rural villages in North Wales. It's a half hour journey to the nearest supermarket and petrol station. They get through £90 of diesel a week - and that's after cutting their journeys down to the bare minimum. She says families should have been given a break in today's budget and now feels disappointed.
I've gone through stages of denial of not looking at the signs in petrol stations to see how much it costs. It's just escalating at the moment and I do wonder sometimes when is it going to stop.
– EINIR WILLIAMS

The Government has sparked a fresh row with unions after confirming plans to press ahead with regional pay rates in the public sector. Chancellor George Osborne told MPs he wanted to make public sector pay more "responsive" to local pay rates, saying the idea was first introduced into the court service by the previous Labour government. The Treasury's own figures show an 18% gap between the average pay in the private sector and that in the public sector in Wales. London weighting already existed across the public sector, and the Opposition have proposed the "interesting idea" of regional benefit rates, he said.

The Institute of Directors have also warned that the changes to pay in the regions of the UK could also hit the wider economy. They say that any changes to the pay of almost a quarter of workers in Wales would have an impact on growth in Wales.
It has to be worrying for business and the economy. Anything that reduces the amount of money within the economy has got to be difficult for business and so we will look at that very cautiously and carefully and see how it impacts Wales going forward.
– ROBERT LLOYD-GRIFFITHS, Institute of Directors