Budget 2012
Fears for Wales' future regeneration projects
by Hannah Thomas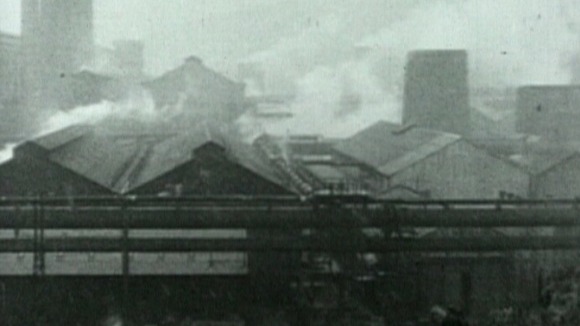 Those responsible for the future regeneration of our towns and cities are warning that it could be under threat, because of the tough financial pressures the country faces. It comes ahead of the Chancellor's budget announcement, announced on Wednesday.
In more deprived parts of Wales, such as the South Wales Valleys, local people say investment is desperately needed. A decade ago the steelworks in Ebbw Vale ceased production. It had provided jobs for thousands of workers since the 1930s, but when it shut many were left unemployed. So in 2007 planning permission was granted for a massive regeneration project to transform the site. That work is now well underway.
Wayne Manning is one of those involved in building a new school there. He also worked at the steelworks and says the town suffered when it closed.
[The local area is] really low on jobs and it's brilliant to have the jobs coming here. I remember working in the General Offices when it was British Steel and then to get given the opportunity to come back and work on the refurbishment was brilliant.
– Wayne Manning

Anita Davies is a nurse at the new hospital on the site, Ysbyty Aneurin Bevan. She says it's a modern facility and because of that she's seen an increase in people wanting to work and stay there.
Staff and people that use our service remember the steelworks. They remember this site and they know it's been closed. They've gone through quite traumatic times over the years so to see something developing that's new and fresh is encouraging for the whole community.
– Anita Davies

Local councillor Don Wilcox also says it's breathing new life into the area.
One of the main benefits is it's giving confidence to the community. There will be employment coming here and there has been, through the social clauses in the construction development contract, quite a lot of employment for local people.
– Cllr Don Wilcox

But regeneration work began at Ebbw Vale a decade ago when the economy was much stronger. The Chief Executive Officer for the Centre for Regeneration Excellence Wales is not confident that similar projects will be funded over the coming years.
The position we're in at the moment of course is one of recession, shortage of public sector funding for such projects, critically short of private sector funding for such projects. So overall the economic restraints are much more severe, so it's less likely that we'll see that scale of project again."
– Dave Adamson, Centre for Regeneration Excellence Wales