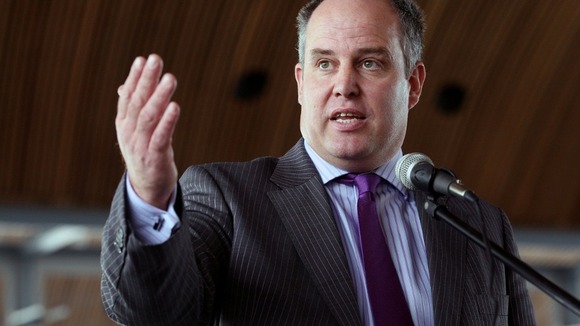 At today's Welsh Conservative pre-election rally in St Asaph, the party's leader in the Assembly will make a bold appeal to Plaid Cymru voters in the wake of that party's choice of leader.
It's often said that many Plaid supporters in its Welsh-speaking rural heartlands are in every other respect politically conservative. And it's those who Andrew RT Davies reckons may be uneasy at the election of Leanne Wood, a left-winger who wants to emphasise Plaid's socialism as well as its defence of the language and heritage.
In what will be his first major speech to Welsh Conservatives, Andrew RT Davies is expected to say:
If you're a patriot, if you're proud of your community, if you're proud of your heritage and your culture and your language, then your beliefs are our beliefs in the Welsh Conservative Party
His other message is expected to be that if you vote Conservative in May you can expect other chances to influence decision-making after the polls closed.
Local referenda on council tax increases, more decision-making for teachers, more decision-making for patients - these are amongst the promises he'll be making in St. Asaph.
On 3 May, you decide …

But if you vote Welsh Conservative then you will keep on making the decisions, about the issues that directly affect you in your daily lives.

On council tax. On planning. On how to invest your own profits in business and raise standards in your hospitals and schools …

If you vote Welsh Conservative then you decide. We want the empowerment of people to carry on beyond elections.
And there'll be the same kind of defence of the United Kingdom which we saw from Welsh Secretary Cheryl Gillan at the party's Scottish conference on Friday.
Mr Davies will say:
We should not allow our Union to crumble.

Our United Kingdom has been a source of cultural ties, personal ties and common bonds and that's before we mention the huge economic advantages of being a global trading power.
Mrs Gillan will also be speaking at the rally this morning, and she's expected to build on the speech she made on Friday.
She'll also reject claims the UK Government is hostile to Wales, pointing to moves in last week's Budget and other policies which she'll say are promoting growth and stability as well as supporting families, those on low pay and businesses in Wales.
But she'll find time for an attack on Labour's record of running Wales. She'll say Labour's vision is "uninspiring and complacent" and will repeat her argument that the Welsh Government has all the money and power it needs but has failed to use either to improve life in Wales.
Today's rally has been hastily-arranged; Welsh Conservatives suffered a great deal of embarrassment when they cancelled their long-planned conference which had been due to take place in February.
They'll be hoping to put that behind them today though and focus instead on the party's efforts ahead of May's local council elections.
Much of the event won't seem like a conference and that's deliberate: it is intended to be a rally for those standing in May. There'll be workshops on practical campaigning matters and speeches will aim to enthuse members with the prospect of making significant gains.
And they should make progress. Last year's Welsh Election showed that the party's share of the vote in Wales held up despite the unpopularity of many decisions taken by its ministers in London.
Add to that the fact that party chiefs say they're fielding more candidates in more parts of Wales than ever before, even in areas which have been off-limits to Conservatives in the past.