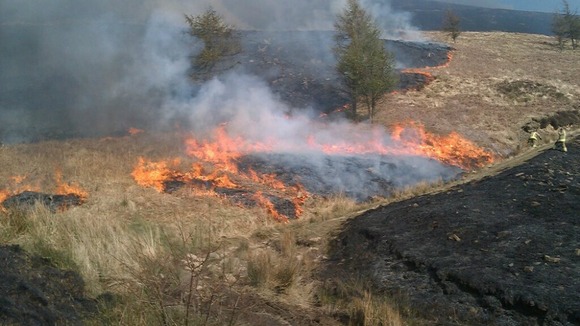 A number of grass fires occurred across Wales this weekend as temperatures peaked at 22C.
South Wales Fire and Rescue Service says one hundred of its call-outs over the weekend were for grass fires, including one on Sunday at Rhonnda Fawr where a blaze had broken out on the mountain overlooking Treorchy.
Also over the weekend, firefighters tackled a fire that had swept across eight hectares on the Bryn Arw mountain near Abergavenny.
The ground is drier at this time of year and if people carelessly drop cigarettes on the ground then grass fires can occur.
– Mid and West Wales Fire and Rescue Service

Mid and West Wales Fire and Rescue Service also had quite a few call-outs over the weekend.

A spokesperson from the service said that fires can be caused by people carelessly dropping cigarettes on the ground and warned everyone to be careful at this time of year because the grass is drier.

It also advised people to call the fire brigade straight away if they think a grass fire has started

Have you seen any grass fires near you, send us your pictures and video
Email - news@itvwales.com
Tweet - @itvwales