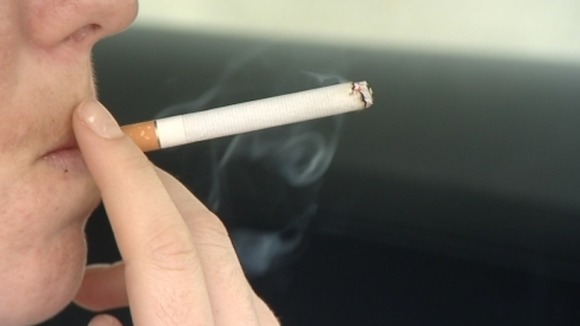 Today marks five years since smoking in enclosed spaces was banned in Wales.
Several more campaigns have followed in an attempt to reduce passive smoking, most recently the Welsh Government's attempts to discourage people from smoking in cars with children present.
Today there are calls for further action against the effects of second-hand smoke on young children.
ASH Wales, a charity that tackes tobacco use, carried out a Freedom Of Information request revealing only two out of 22 councils in Wales have policies that ban smoking in their playgrounds.
They're now calling for Welsh local authorities to ban smoking in all children's play areas.
We're not talking about the whole park. We're just looking at children's play areas. We just think it's their space - so come on, how about not smoking in their space?
– Elen de Lacy, Ash Wales Chief Executive

Local children will now design signs to go up in playgrounds across the borough to help enforce the message.

Smoke-filled pubs, bars and restaurants are almost a distant memory as continuing efforts are made to protect workers and the general public from the effects of second-hand smoke.

There have been mixed feelings towards the ban on smoking in enclosed spaces since it was introduced in 2007.

Welsh politicians say the legislation prevents around 400 deaths though passive smoking each year, as well as reducing the risk of developing cancers and heart disease by at least a quarter.

But many smokers still argue it's an infringement on their freedom, while some in the hospitality industry claim it has affected trade.

Penarth pub landlord Clive Williams says his takings have halved since the ban was introduced in 2007.

The latest Welsh Health Survey results show 23 per cent of people in Wales smoke compared to 24 per cent in 2007. The Welsh Government hopes to reduce this figure to 16 per cent by 2020.

Figures from Ash Wales reveal:

Smoking costs Welsh NHS £386 million a year

Each of us spends £129 on treating smokers

22 per cent of all adult hospital admissions are a result of smoking

Subsequent campaigns have been introduced - either to encourage people to kick the habit, or to protect people from passive smoking.

Vending machines can no longer sell cigarettes and there are restrictions on advertising tobacco products.

Several Welsh health boards, most recently Aneurin Bevan and Cardiff and Vale, have banned smoking on any part of their hospital premises – inside or out.

In February this year, the Welsh Government launched a three-year campaign to discourage drivers from smoking in cars when children are present. An outright ban could be introduced if the campaign is not shown to be effective.

And last month cancer charity Tenovus urged Wales to become an entirely tobacco-free society.

For more information on smoking and advice on how to quit, visit Stop Smoking Wales