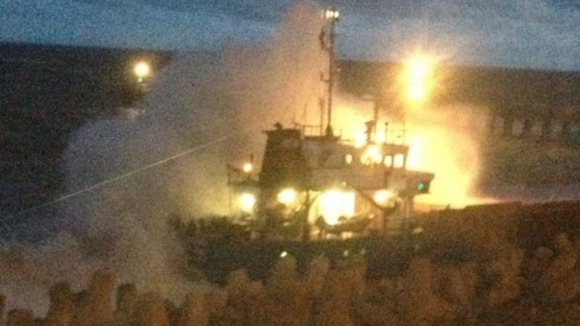 All crew members confirmed safely off ship. Maritime and Coastguard Agency to inspect damage at dawn.
A cargo ship ran aground in rough seas with several crew members on board. It happened at Llandulas near Colwyn Bay on Tuesday evening.
The A55 remains closed between between the Promenade and Abergele Road in Old Colwyn to allow sea rescue helicopters to land.
Police are meeting with coastguards now. Despite some dramatic pictures, as far as we can see the vessel is still intact. The winchman and 2 crew members who were left on the ship are safe and well. From our perspective as coastguards that's the important part over. We're delighted we've been able to get them all off board safely. The Maritime and Coastguard Agency which deals with pollution and spillage is on its way to North Wales and ready to inspect at first light.
– RAY CARSON, COASTGUARD AGENCY

A spokesman said: "Two RNLI all-weather lifeboats launched at 8:30pm this evening after reports that a commercial vessel had ran ashore against a rock on the breakwater at Llanddulais, North Wales."
Both Llandudno and Rhyl all-weather lifeboats launched into a gale and rough seas to assist the vessel and arrived on scene by 9pm. An RAF helicopter is providing extra assistance in rough conditions.It has also been confirmed the stricken vessel is German and has eight crew members on board.
– RNLI spokesman

ITV reporter Ian Lang at the scene of the rescue said the ship is right up against the sea defences where it is being battered by very high seas.

He added: "It looks structurally sound from what we can see, and certainly not like it's being broken up."

He also described the air sea rescue which was carried out to lift some of the crew to safety.

"The helicopter crew carried out an amazing rescue.

"The waves seemed to be flying up almost to the aircraft itself when they were lifting people off the deck.

It was difficult to understand how they could have done this so successfully because of the high winds and dreadful conditions."

Five crew members were winched to safety by helicopter but the rescue had to be interrupted. The winchman from the helicopter was left stranded on the ship with two remaining crew members. They were all successfully rescued at 0100 on Wednesday morning.

The efforts were hampered by a northerly wind blowing directly on to shore at Severe Gale Force 9.

The environmental authorities have been notified about a risk of pollution.