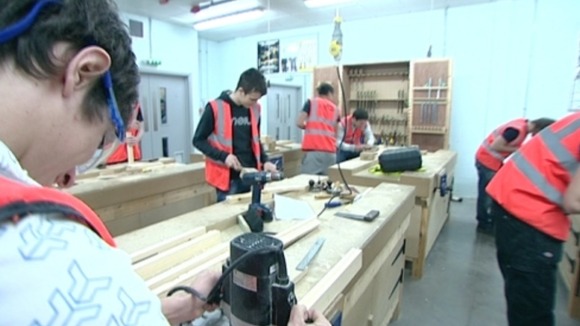 £75 million of funding to create 12,000 temporary jobs for young people over the next three years has been announced by the Welsh Government today.
The 'Jobs Growth Wales' scheme aims to improve employment opportunities for people aged 16-24, by giving them paid work for six-month periods.
Young people who are considered 'job-ready', but can't find employment, will earn at least the National Minimum Wage, working 25 hours per work or more.
Rosie French tells our Business Correspondent Carole Green that she could only find short-term work as a waitress until she joined the pilot scheme at a call centre in Carmarthen.
Welsh Labour made the scheme a central part of its election manifesto last year. The First Minister, Carwyn Jones AM, says it should deliver permanent jobs and not just quick-fixes.
Jobs Growth Wales is a flagship policy in our commitment to boost economic growth and jobs in Wales. Not only will this scheme create opportunities for unemployed young people, who have suffered more than most in the recession, but these posts will also be new jobs, helping Welsh businesses to expand.
– Carwyn Jones AM, First Minister

The Deputy Minister for Skills, Jeff Cuthbert AM, said that the scheme had enjoy a "successful" pilot, with a wide variety of large and small private sector companies from across Wales interested in taking on young people.

There will be three specific parts of the scheme, targetting graduates, micro businesses, and green jobs.
The current financial climate has led to the emergence of a growing number of 16 to 24-year-olds who have fallen outside work or education. Jobs Growth Wales will enable individuals to gain good quality work experience to progress into permanent employment or where appropriate an apprenticeship.

The majority of jobs will be generated within the private sector, although there will also be some available in the voluntary sector. Businesses that take part in the scheme will need to demonstrate the jobs we support are new ones.

We will work with all employers and young people involved to do our very best to ensure there is a destination for everyone, be it full time work with the current employer, an apprenticeship or a full time job with another employer.
– Jeff Cuthbert AM, Deputy Minister for Skills