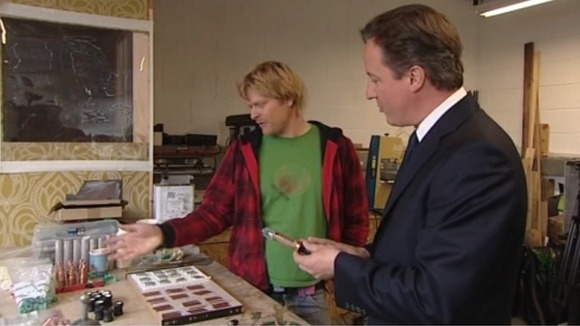 David Cameron has committed his Government to electrify the Valley lines of south Wales. The project which could cost up to £450m follows on from their announcement last year to electrify the Great Western Mainline as far as Cardiff.
Speaking whilst campaigning in Barry ahead of next month's local elections, he told ITV Wales' Political Editor Adrian Masters that the government is "committed to the electrification of the Valley lines." The Prime Minister said that whilst there were issues to ironed out and agreements to be made with Welsh Government, but when pushed on whether the project would defininetely go ahead, he said "that is what we are going to deliver."
David Cameron was visiting small business' in the Vale of Glamorgan on his first visit to Wales of this years local election campaign. During campaigning he argued that the Welsh Government was 'letting down' parents and patients with cuts to the NHS whilst spending in England has increased.
The Prime Minister also rebuked criticism over plans to introduce regional pay for people working in the public sector. He told Adrian Masters that "we need to make sure that we do not lose as many jobs in the public sector and that we generate growth in the private sector." He said that "it is right to look at this issue, and that is exactly what we are doing."
The Welsh Government has welcomed the Prime Minister's commitment to electrifying the Valley Lines but a spokesman says it must be linked to the 'unfinished' electrification of the main line from London to Swansea.
Full electrification of both the Valleys and Great Western Line to Swansea is essential if we are to give Wales a rail network that is a genuine alternative for commuters, leisure travellers and businesses.

We are pleased the Prime Minister now recognises benefits that electrification will bring to Wales. We will continue to work with the Department for Transport to reach agreement on the business cases for electrifying the Valley Lines and for continuing electrification of the Great Western Main Line onwards from Cardiff to Swansea.
– Welsh Government spokesman

The Prime Minister's visit comes 24 hours after political rivals Labour and the Liberal Democrats deployed high-profile figures to woo Welsh voters.

First Minister of Wales Carwyn Jones spent the day door-knocking in Cardiff, Swansea and Merthyr.

Senior Liberal Democrat Vince Cable visited a blind charity in the Welsh capital before going on a tour of Splott-based steel recycling firm Celsa.